We've featured the images of this incredible winter wonderland wedding photo shoot at the beautiful Fairmont Chateau Lake Louise before but we were thrilled to see the images showcased on Rocky Mountain Bride! And since we are in the throngs of winter we thought it would be a great time to share these images again too. After all, they are some of our favourite images and they showcase the beauty of a winter wedding in the Rocky mountains perfectly.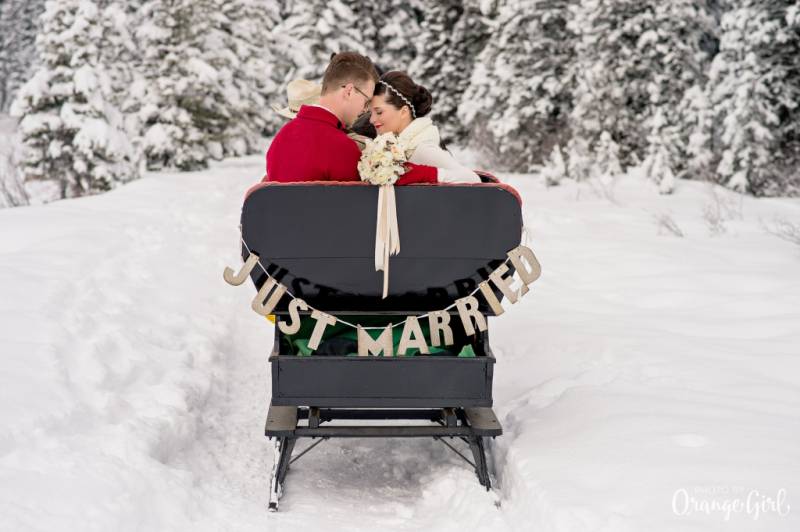 We were absolutely honoured to be a part of this amazing team and work as the Lake Louise mobile hairstylist on site for the photo shoot. You can read more about all of the details of the shoot from the very talented Orange Girl Photography:
I am grateful to an amazing team who pulled together the look of what we wanted to achieve with a lot of love and laughter. Styling Steph created a classic make up look for Heather with a beautiful red matte lip for a pop of color against the snow. Mountain Beauties created an elegant chignon for Heather and styled Graham's hair. It is hard to believe that they were able to create a faux chignon using extensions added to Heather's short bob hair for an elegant undo. Thank you to Sarah Mayerson Design for the bouquet and to James Fraser from the Fairmont Chateau Lake Louise who brought in his own personal collection of sweaters and ties for Graham to wear to fit the vision we had in mind.We started our day off by stepping out of the Fairmont Chateau Lake Louise and having Sarah from Brewster Adventures pick us up in a horse drawn private cutter for two for a tour around the lake. The sleigh ride took us around the lake on a tree lined path that ended at a frozen waterfall at the end of the lake. It was stunning!!! They also have big sleighs so you can treat your guests to a sleigh ride.Frozen Memories sculpted this amazing ice throne for us which I loved for photographs. You can also order custom ice thrones, sleighs, martini luges and ice bars from them for your wedding. If you are working with the Fairmont Chateau Lake Louise they will take care of arranging everything for you.