Mountain Beauties is a Canmore based makeup artist and hairstylist team, focused on bringing amazing hair and makeup to your location for your mountain wedding. We carefully choose each member of our team, as they become a part of the Mountain Beauties family, and must represent who we are perfectly.

Today we want to introduce you to our newest makeup artist, who is definitely no stranger to the industry, and even though she is knew to our team, she has years of experience and training behind her.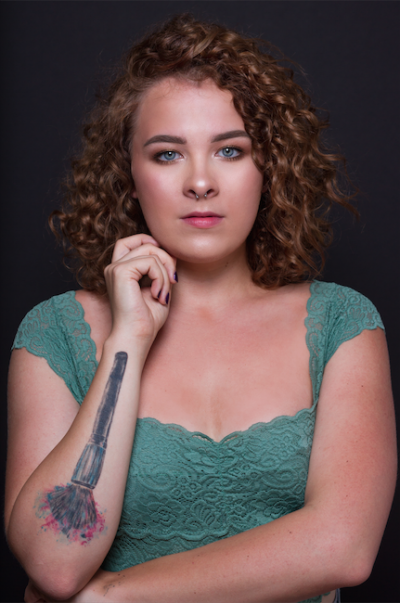 1: What do you do (makeup, hair etc.) and how did you get into it?

I am a Makeup Artist, and getting started in makeup was a bit of a run around. I took a year off after high school to figure out what I wanted to do. After my parents had suggested Makeup Artistry to me, I kinda brushed it off and decided to go travelling through Europe for a few months. When I returned and began to show my purchases from the trip to my family, we realized that almost all I had bought was makeup. Taking that as a sign, I proceeded to enrol into makeup school.

2: What do you love about your job?

How things are ever-changing and every bride that comes in wants something special and different. This really lets me bring out my creativity and presents a new and exciting challenge with each new bride that I meet!

3: Where did you go to school or train? (talk about school, accreditations, awards etc.)

I have always been pretty artsy, I took Advanced Placement Art in high school, and through this I have won many awards for my fine art. I feel like this has more then likely helped me with my makeup! I took three courses through Artists Within Makeup Academy, Beauty Makeup, Advanced Makeup and Airbrush Makeup. I graduated in the top of my classes and proceeded to go on to teach makeup to aspiring makeup artists at Artists Within, as well as coordinating bootcamps at Eveline Charles Academy, and putting together lessons at my in-home studio.

4: What's in your makeup bag?

So much I don't even know where to begin! but I guess thats a good problem! So I'll just say my top 3 favourites, My Marc Jacobs Beauty in Dashing lipstick, My Nars Sheer Glow Foundation, and my Anastasia Beverly Hills Brow Pomade.

5: What's your best tip for brides?

Purchase or bring your favourite lip colour for the day of. One of your bridesmaids should be good to keep tabs on it for you, and having it will let you have super easy touch ups through out the night! Keeping your lip colour fresh will keep all your makeup look pulled together no matter how sweaty your dancing my get.

6: What do you wish all brides knew about for their makeup/hair for their wedding day?
Go in wanting to look like you on your best day. I wouldn't worry about what the trends are or the special colours or looks for the season. Pick a look that you feel most beautiful and confident in. People will see this on the day and you will look back at photos and not wonder what you were thinking.

7: What's your favourite part of a wedding?

When the bride gets her dress on after all the hair and makeup is done. It really pulls together everything into a super magical moment.

8: Anything interesting we should know about you or your style (anything you want to share to add to your story or bio)

This is a hard one for me to answer as my style seems to change all the time, One day it might be boho, then who knows, maybe some grunge, then dress it up a bit. As long as I leave with my eyebrows on point, that's all that really matters to me!